CEAR™ Test Drive
Mercedes C-250 Turbodiesel
Vital Statistics for C-250 Turbodiesel: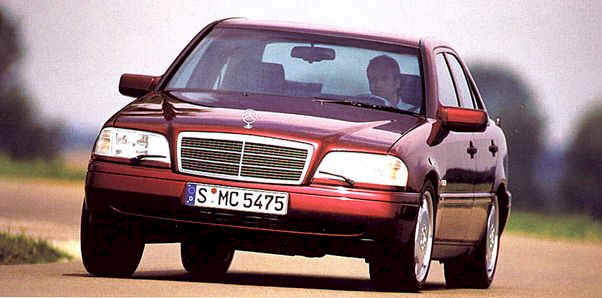 Total Displacement: 2497 cm3
No. of Cylinders: 5
Maximum Speed: 203 km/hour
Fuel Consumption:
urban cycle 9.4 liters/100 km
90 km/h 5.3 liters/100 km
120 km/h 7.2 liters/100 km
Price: Sk 1 200 555
As the winsome notes of Mozart tickle your ears and the gentle Slovak hills slide by outside, it's easy to forget that you are driving Mercedes' handsome compact C-class saloon. Dangerous, yes, but immensely pleasurable.
Tight and no-nonsense characterizes the C-class ride. It's small size makes it supremely maneuverable, and the double-wishbone front suspension improves handling, as does the multi-link independent rear suspension. The car gobbles up road undulations and treats potholes with disdain. And like a benevolent dictator, it pulls you into turns and leads you with its firm hand. If you start to veer, it's there to crisply bring you back.
All C-class engines have four valves per cylinder technology, and pollutant emissions have been reduced by 30%. Although the Mercedes propaganda claims that their pre-chamber combustion principle makes their diesel engines "so quiet that you can hardly distinguish them from petrol engines," it's quite obvious that you are driving a diesel. Nonetheless, the car is not a typical diesel.
The turbodiesel engine's exhaust gas turbo charger and intercooling have led to a 33% increase in output and a 65% surge in torque. The technological refinements provide aggressive acceleration and partially muffle the tell-tale diesel engine clank and knock. Shifting gears, however, is a bit crunchy, despite the mounting of all shafts in ball bearings instead of tapered roller bearings.
The interior is clean and simple, and no advanced degree is required for using the knobs and buttons. I was, however, vexed by the little white man button on the center console. I pressed it, thinking that a white-coated engineer would parachute down with a cup of tea for me. He never appeared.
I inadvertently discovered an apparent child safety feature when testing out the leg room in the back seat. After I satisfied myself that the leg room was inadequate, despite the clever knee indentations in the front-seat backs, I pulled on the door handle to exit. Nothing happened. I checked the lock. It was unlocked. I pulled again. Nothing. While clawing my way back into the front seat, I discovered the true meaning of "compact."
Mercedes are renowned for their safety and the C-class is no exception. Driver and passenger side air bags are standard, as is ABS. A passenger safety cell provides protection in frontal, offset frontal, and lateral collisions. A compact emergency kit will come in handy for those non-lethal mishaps. For those slick days on the road, electronic traction support is available as an option.
The C-class is available in four design and equipment versions: Classic, Esprit, Sport, and Elegance. Offered features include walnut trim, folding rear-seat headrests, leather seats, and infrared remote control for central locking. A standard immobilizer will keep your Mercedes from taking that unscheduled one-way trip to Ukraine.
Jeffrey Jones is editor-in-chief of the Central Europe Automotive Report.